Welcome to the World of Forecasts!
Social media tests are very popular today. However, the tests presented like flies in the Internet cannot be considered accurate. Based on the differential approach, they describe a person's character not in whole, but mosaic. They are subjective because people answer the same questions differently, depending on their mood and the presence of problems.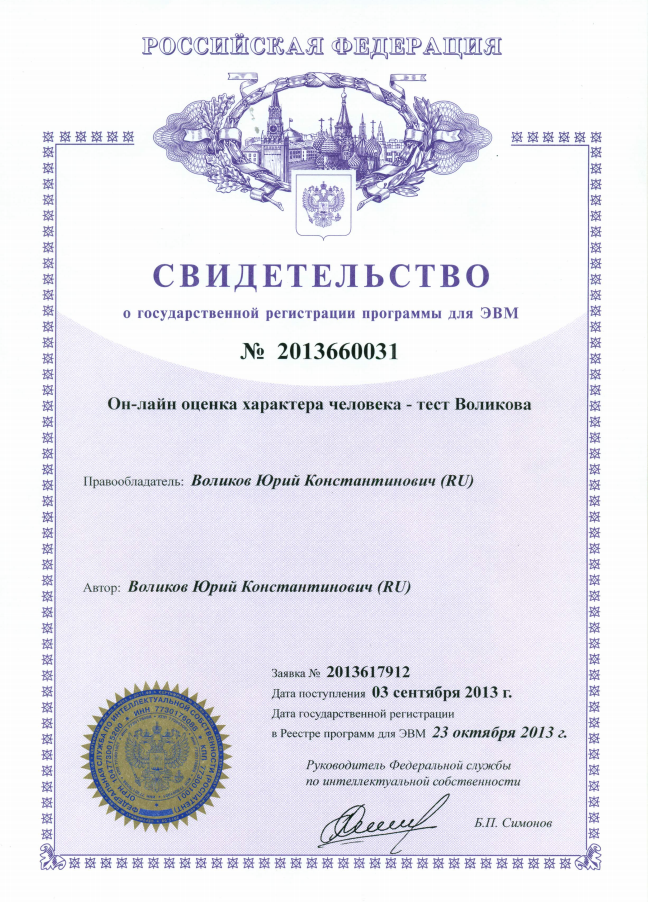 The author of the test is Yuri Volikov, graduate of MISiS (The National University of Science and Technology), The Department of Theoretical Physics, therefore, the test is scientifically based, exactly they are hundreds of numerical matrices in which the numbers are different astronomical parameters such as distance between the planets, their sequence, the angles they form, etc. Thus, it takes into account many more factors than usual horoscopes and numerological squares. The tests presented on the website "World of Forecasts " are hours of hard work, so they give good results.
Volikov's test is a science-based patented program, as evidenced by a patent issued by the Federal Service on Intellectual Property, it is protected by copyright. This website is a non - profit, and the creator does not plan to make it so. Anyone can use this site.
Currently, there are two available tests on the resource - "Online relationship estimation" and "Online personality test". The tests are different, but have the same principles. To obtain information about yourself, you should only point out a accurate time and place of birth, and you will get full information about your psychological portrait, strengths and weakness.
Human nature is characterized by multidimensionality, and it is very difficult to describe it. The disparate factors that determine one trait or several are examined in the framework of differential approach, but the complete picture is thus unavailable. The fact is that the human brain cannot simultaneously operate with a lot of data to consider all the factors. And here comes Volikov's test, which is based on the integral approach. The program will collect, elaborate and analyze information and write the results in the form of diagrams.
Various key characteristics of the person are presented by marks from "-5" to "+5": will, diligence, kindness, intuition and other – a total of 21 characteristics. The test gives the integral answer, a comprehensive description with comments and helpful hints.
Currently the main task of the author is to increase the accuracy of the test. Now the forecast accuracy reaches 90%, it means a hit in 18-19 characteristics with a small error in 2-3 characteristics.
Victor Hugo said: "Each person has three characters: that which he is credited; the one that he ascribes to himself; and finally, the one that really is."
Open your character!
Good luck!